Last year, I posted about the first season of In The Flesh, a BBC zombie show that I liked quite a bit. Season 2 finished airing on BBC America last week and it is still very good. Season 1 was only three episode-long, but season 2 has six episodes, so, it allowed a more complex and multi-dimensional storyline as well as more character development.
[Spoilers included]
Season 2 picks up a little later and is marked by backlash on both sides of the issue. On the one hand, the living are no longer as frightened of the PDS sufferers as they were in season 1, and that leads to both interpersonal and political backlash, with the rise of the UKIP-type political party, Victus. Hence the arrival of the new Victus MP for Roarton, Maxine Martin, one of the new characters for this season.
The rhetoric of the party is very fascist and soon after her arrival, MP Martin starts registering PDS sufferers, and later on forcing them in to the new Give Back scheme, a forced labor program, supposedly designed to make PDS sufferers "repair" some of the damage they did during their time as zombies.
Why would they participate? Because concurrently, their basic civil rights have been suspended, and, supposedly, they can only get them back after completing the Give Back. Needless to say, this is a system of exploitation and abuse that generates resentment on the part of the PDS sufferers.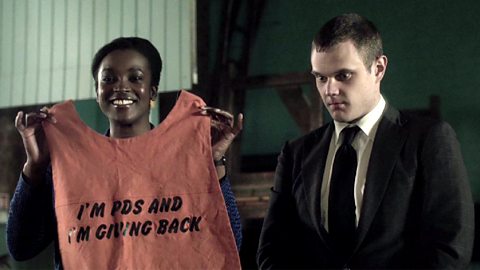 And, of course, no discrimination and stigmatization scheme would be complete without a visual status signal. So, it's not a yellow star, obviously, but the orange vest that tells the world that one is a PDS sufferer working on the Give Back scheme, which makes enforcement of all the restrictions easier.
That resentment is then used to unofficially reactivate the Human Volunteer Force (under a new name) to enforce the Give Back scheme. That scheme is hilariously presented in all its hypocrisy, with fancy brochures and cheesy DVD presentation to the community. Also, most of the PDS sufferers are made to work building a fence whose purpose is not yet really known. And, of course, one of the rules is to use lenses and make-up. PDS suffered are forbidden from leaving their present location (so, no trip to Paris for Kieren). Any deviation from the rules marks the PDS sufferer as non-compliant, which can lead to their return to the treatment center.
On the other side, there has been radicalization on the part of the PDS sufferers as well, with the introduction of a social movement organization, the Undead Liberation Army (ULA), that conducts terrorist attacks, using a substance called "Blue Oblivion" that temporarily returns the PDS sufferers to their zombie state.
The ULA is led by a mysterious "prophet" (whom we do not see during this season) who appoints people to lead PDS rebellion in various areas. That is how another new important character shows up in season two, Simon, "the Irish" as some Roarton denizens call him. This dual radicalization (Victus v. ULA) has religious undertones on both sides, and the show treats religious fanaticism as inherently violent.
Whereas fear was still somewhat present in season 1, it is mostly mutual hostility that sets the tone of season 2, which is much darker than its predecessor and the entire season leads up to an ultimate confrontation by religious fundamentalists from both sides, exposing the absurdity of their beliefs.
Season 2 is also marked by the disappearance of older patriarchal figures, and their replacement by different, more diverse figures. Last season ended with the death of HVF leader, Bill Macey, shot dead by Ken Burton, who, himself is killed in an ULA attack in the first episode of season 2. Later on, Vicar Oddie, a big anti-PDS agitator, dies of a heart attack (and MP Martin could have helped him but decided to do nothing, in effect, letting him die). So, three old white men are out. Enters the black female MP (Martin). And then, younger characters take more center stage: Phil Wilson (the young town councillor who used to take his marching orders from Vicar Oddie, and now from MP Martin… up to a point), Gary Kendall (the new HVF leader who claims for himself the rank of captain), Simon (of the ULA), and Kieren Walker and Amy Dyer, of course.
In this season, the themes of the previous one (stigmatization) are still here, but the in-group / out-group dynamics are much more salient and obvious. Living and PDS sufferers position themselves in opposition to each other, extremist living not longer considering PDS sufferers as humans, and extremist PDS sufferers rejecting the label and considering themselves a kind of superior race to the living. How these distinctions and ideologies are created, sustained, amplified, and transmitted is the most interesting part of this season.
There is one narrative thread that is started in season 2, and, is one the most promising for season 3 (hopefully, there will be season 3): the two doctors that created the drug that keeps PDS sufferers from "turning rabid" also created the pharmaceutical company that mass produces it. In the last episode, the government agents are sent to Roarton to collect someone (we never know who it is until the very end) but we don't know why. That government / corporate storyline will hopefully be developed more in season 3, as there are references throughout the season, to experiments (torture, really) conducted on PDS sufferers at treatment centers (Nazi experiments, anyone?).
In all, it is hard to avoid the comparisons with the rise of fascism and seeing the PDS sufferers as the racial/ethnic target of hatred, along with their economic exploitation, and the curtailing of their rights. It is hard not to think about the current situation in Europe, with the rise of far-right / fascist parties all over the EU.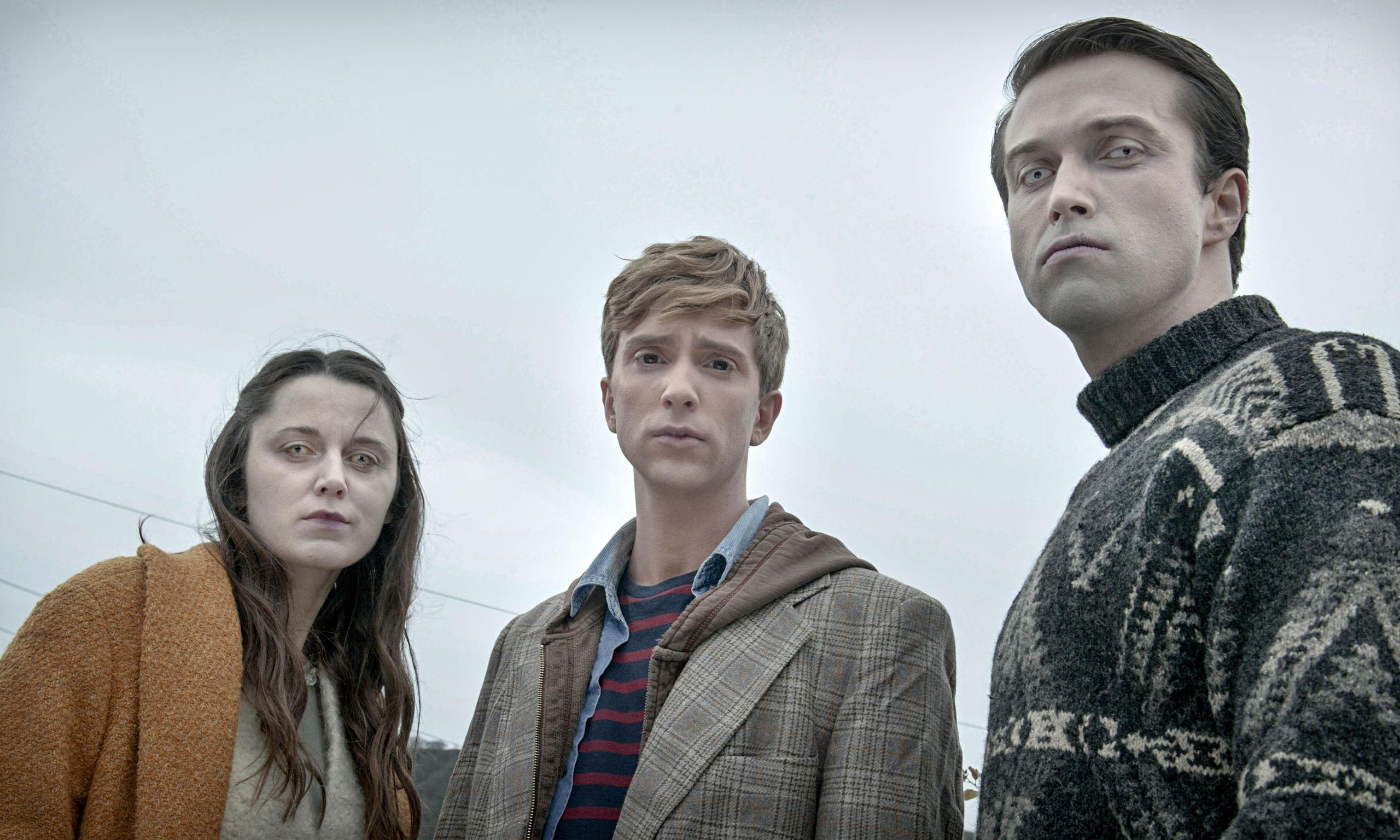 There are also still interpersonal storylines going on throughout the season, that add a human (see what I did there?) dimension to the socio-political aspects.
I like the way that Kieren's homosexuality is treated as a non-issue in itself, and so, his burgeoning affair with Simon is only a story because because of Amy's crush on Simon, or the fact that Simon is then tasked by the Undead Prophet to kill Kieren. There is the Amy / Philip story, the Jem / Gary / Henry storyline, and a series of other secondary characters that really add texture to the entire series.
I highly recommend it.