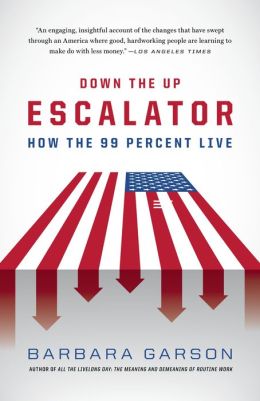 Barbara Garson's Down The Up Escalator – How The 99% Live is part of the non-fiction sub-genre of "the human face of [insert socioeconomic trend here]". In this case, the trend is the precarization of the American workforce. This book is not dissimilar from Louis Uchitelle's The Disposable American: Layoffs and Their Consequences. On both cases, the focus is on the precarization of workers whose jobs are not supposed to be precarious: they are not part of the uneducated employees of Walmart or fast food joints.
Garson's book depicts the latest consequences of the 2008 recession:
"For all my intellectual grasp of the downward trends for American workers, I just can't believe that these four generous/selfish, mellow/excitable, unique/ordinary, and highly employable individuals will simply remain the long-term unemployed. Even though they might." (Loc. 660)
Indeed, Garson's book is a series of vignettes about people who thought their lives were relatively secure only to have the rug pulled from under their feet either because of unscrupulous mortgage lenders, the lay-offs following the recession, or just plain bad luck. These people never thought they would face precarization first-hand so fast. Most of Garson's interviewees are educated, have been connected to the labor market for a long time. Heck, several of them are part of the much-vaunted creative class. This was not supposed to happen to them. For those, they did not go underwater quickly as their previously high-paying jobs gave them savings, and some margins that allowed them to have expenses that could be cut back. But things are not looking up for them.
"The Kennys may indeed have failed to grasp opportunities that would leapfrog them over others. But their basic economic mistake was to assume that salaries, house prices, and savings would gradually increase over the years. In other words, the Kennys fell behind because they didn't fully grasp that they weren't going to get ahead.

(…)

But adjusting to downward mobility would have required a midlife course correction that's inimical to Americans of their generation. As I've said, down is an un-American direction." (Loc. 1193)
By following her subjects over a period of time, Garson can see the progressive destabilization that marks these people's lives as things do not improve for them. Sure, a few of them make mistakes along the way, but this is what happens in Bauman's liquid society where individuals are supposed to find their own solutions, on their own, to structural problems foisted upon them. And, especially for the African American and working class (often overlapping) subjects of Garson's book, there is no margin for error. To find individual solutions to systemic problems is no easy task. As several of Garson's subjects show, it takes time, perseverance to face a mortgage modification system that is downright Kafkaesque (and full of very shady people).
"To most underwater homeowners, the word "modification" referred to an ineffective government program meant to keep people in their houses. But there are many ways to modify the terms of a mortgage. Litton Loan Servicing is known among consumer advocates for offering mortgage modifications that fail and leave homeowners owing more than ever. This is how that works out profitably for them: Normally, a mortgage servicer passes along all of the interest and principal it collects to the banks or investors who own the mortgages. The servicer earns its money from regular service fees, late penalties, and special charges like the ones involved in modifications. But a mortgage servicer normally can't offer a modification (a change in a loan's basic terms) without the consent of the loan's owner. This, as we've seen, can be hard to get. But Litton and its associates buy up delinquent or otherwise malodorous mortgages at a discount. With the original investors out of the picture, Litton is free to grant modifications in its own interest.

(…)

During the course of most Litton modifications or "trial" modifications, the homeowner's payments can consist almost entirely of fees and new interest. By offering one likely-to-fail modification after another, Litton can collect payments like Alice Epps's $4,939 a month for as long as the homeowner can pay. The company is free to raise or even lower the payments if it decides that's the best way to squeeze out a few last drops. But since almost none of the money goes to paying off the mortgage debt, the recipients of Litton modifications often wind up owing more than they would have if they'd never been granted the favor. When they've paid all they can, they lose the house." (Loc. 2576)
This would perfectly fit what Charles Derber describes as part of the sociopathic society (the title of his latest book):
"A sociopathic society breeds routinized, institutionalized pervasive and fierce sociopathy that chips away at its own foundations.

Sociopathy is antisocial behavior by an individual or institution that typically advances self-interest, such as making money, while harming others and attacking the fabric of society. In a sociopathic society, sociopathic behavior, by both individuals and institutions, is the outcome of dominant social values and power arrangements. A sociopathic society, paradoxically, creates dominant social norms that are antisocial – that is, norms that assault the well-being and survival of much of the population and undermine the social  bonds and sustainable environmental conditions essential to any form of social order." (3-4)
Even though the book, for the most part, is a series of individual stories of downfall and getting stuck, Garson is not ignorant of where this is all coming from. And so, the book marshals statistical trends correctly putting the blame where it belongs: Reaganomics. The unraveling of the upper-middle and middle class we are witnessing is the end point of policies that started 30 years ago.
"When factories started closing or moving abroad in the 1970s and 1980s, we were told not to worry. Yes, some blue-collar workers might have to be pensioned off. But the rest of us would become "information workers" in the "postindustrial society." The important thing was to acquire the skills of the future.

(…)

Something bad has been creeping up the occupational ladder. First it hit blue-collar workers like Duane; then it hit pink-collar office workers like his wife. The college educated appeared to be keeping a couple of rungs ahead of it. But starting in the late 1990s, real income has been falling sharply for people with college degrees—so far excluding PhDs. You might say that the Pink Slip Club members were a generation and a half behind (or ahead) of the people in Evansville. But it was catching up to them even before the downturn." (Loc. 1213)
And this is the important part of that story: this is not something that just happened in the magical realm of economic markets, something that few superior humans can comprehend and no one should tamper with. This was by design. Hence the sociopathic society.
And the sociopaths are still around:
"This wild mortgage lending wasn't dictated by masses of poor people storming the banks demanding credit. It was fueled by a relatively few people with large piles of money that desperately needed to be invested. Hedge fund owners, pension fund managers, and European bankers are among the folks who bought mortgage-backed securities. But like others charged with great piles of cash to invest, they can reasonably blame the money itself." (Loc. 2738).
And they blamed the underwater homeowners as well, the poor, the African Americans, etc. This still speaks volume to the dominant ideological climate created over these past thirty years, mainly through the conglomeration of corporate media.
But what comes through loud and clear from Garson's book is the corrosive nature (to paraphrase Richard Sennett) of the current system as precarization creeps up the social ladder. As Garson herself notes,
"None of the recession sufferers we spoke with in Down the Up Escalator were hungry, and only one was truly homeless. But most of them couldn't be sure where or when they'll work, how long they'll be able to stay in their homes, whether they'll ever be able to retire or to have a baby, and more generally what will happen next." (Loc. 3494)
Welcome to the liquid society or the risk society or the sociopathic society. Take your pick. Either way, it is a pretty gloomy scenario.
This is overall an engaging and accessible read that really goes into some details of these individual stories, which reads like old-fashioned journalism. At the same time, it does take in the big picture without being to wonky. This is clearly a book for the general public and one hopes it gets wide  diffusion.
Here is a video of Barbara Garson on Bill Moyers:
Surviving the New American Economy from BillMoyers.com on Vimeo.